Thyristor DC Drive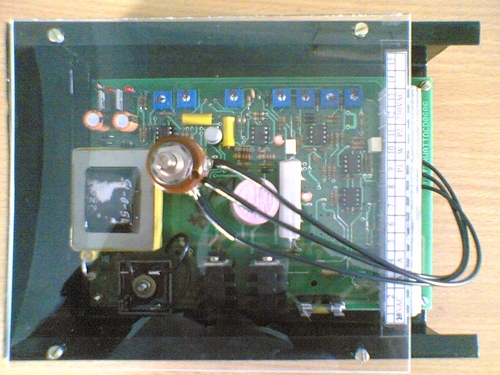 Thyristor DC Drive
Product Code : Thyristor-Drive
Our company has marked a global presence in the domain by manufacturing and supplying Thyristor DC Drive. We manufacture the drive under the strict guidance of the expert professionals using only superior grade materials and components. The drive is tested on efficiency and performance parameters to ensure that only flawless range is provided to the clients. We offer the Thyristor DC Drive to the clients at the pocket friendly prices.
Features:
Regulated control power supply

High starting torque

Easy to install
Advantages of DC motor & drive
1. Ease of control
2. Delivers high starting torque
3. Near linear performance
Drive is relatively simple & cheap.
SERVICE CONDITIONS
ENCLOSURE : Chassis ( panel mount ) With Acrylic cover
HORSEPOWER RATINGS : 1/8HP to 3HP,10 HP two phase,20 to 150 HP Three phase.
INPUT : 240VAC , 1 phase , 50/60 Hz ,415 v two phase,or threephase for drives
above 20 HP
LINE VOLTAGE VARIATION : +/- 10 %
LINE FREQ VARIATION: 48 - 62 Hz
FIELD SUPPLY : 5A Max
AMBIENT TEMPERATURE: 0 to 55 degree celcius
SPACE REQUIREMENT: 180 X 200 X 70 mm.
Box sizes vary as per specs.Check with your quote.
PERFORMANCE SPECIFICATIONS
SERVICE FACTOR : 1.0 max rating ( continuous duty )
SPEED REGULATION: +/- 1% of max. speed
For a 95 % Load change using
Tachofeedback with IR compensation
FOR ALL OTHER VARIABLES: Changes upto 10%
OVER LOAD CAPACITY: 150% For one minit
ACCELERATION TIME : 1 - 10 sec settable
DECELERATION TIME : 1 - 10 sec settable
CURRENT RATING : 150 % of selected rating
PRESET ADJUSTMENTS
The standard control includes 2 costumer adjustsble presets located on
PCB . For proper operation in some application minor readjustments may
Be necessary during drive installation & startup .
MAXIMUM SPEED : 70 % to 115 % of rated speed
MINIMUM SPEED: 0 to 30% of maximum speed
IR COMPENSATION: 0 to 20% of rated voltage at rated current
FEATURES
MODE OF CONTROL: Speed or torque regulation ( optional)
SPEED ADJUSTMENT: By Potentiometer
OPERATING VOLTAGE: 120V or 240V
CURRENT LIMIT LEVEL: settable upto max of 150% of rated current
REGULATED CONTROL POWER SUPPLY .
dv / dt PROTECTION.
OPTIONAL ISOLATED ARMATURE FEEDBACK .
Contact Details
TECHNOVISION CONTROL SYSTEMS PVT. LTD.
C-2, Nilkanth Sadan, Plot 3A, Sector-10, Beside Swad Restaurant, Khanda Colony, Navi Mumbai - 410206, Maharashtra, India
Phone :91-22-27464402
Fax :91-22-27469607
Mrs. Smita (Sales Coordination)
Mobile :+919004933805
Mr Sagar Pramod Sadavarte (Director)
Mobile :+919867528528, +919869279756, +919619312807
Quick Services